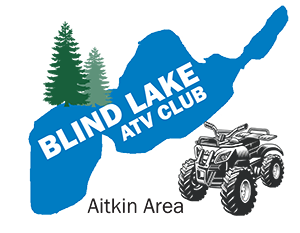 Welcome to the Blind Lake ATV Club. Feel free to read through our pages to learn more about our club, trails and how to become a four wheeler club member. If you have ridden the Blind Lake trail system, we would like your feedback. Click here to go to our Contact Page to ask a question regarding our ATV Club.
The Blind Lake ATV Trail is located 10 miles north of Aitkin Minnesota in northern Aitkin County. Thirty minutes from Brainerd, Crosby, Hill City and Garrison areas. Aitkin and Hill City are within 10 minutes from the trail heads. There are two accesses to the ATV Trail. One is on the north end of the trail and the other is on the south end of the trail. Click on the ATV Trail tab for the Blind Lake ATV trail map, while the second link on the page includes the the Blind Lake trail connector to the Soo Line trail. The third and fourth links are maps of the Northwoods Regional Trail System including the following trails.
Please note that the Emily to Blind Lake connector and trail is now open. That map is also accessible on the ATV Trail page.
Ride safe, wear a helmet and have a great ride in the wild!
Aitkin
Wednesday, 29 September
Mon
Tue
Thu
Fri
Sat
Sun

 

 

 

 

 

 

+

69°

+

76°

+

74°

+

62°

+

58°

+

57°

+

49°

+

53°

+

61°

+

57°

+

57°

+

52°