The Blind Lake ATV Trail Opens May 19 2018
County forest roads open to recreational ATV riding are designated by the green "open to" signs at the entrance of the road.
The Blind Lake ATV Trail is located 10 miles north of Aitkin Minnesota in northern Aitkin County. Thirty minutes from Brainerd, Crosby, Hill City and Garrison areas. Aitkin and Hill City are within 10 minutes from the trail heads. There are two accesses to the atv trail. One is on the north end of the trail and the other is on the south end of the trail. The first link below shows the Blind Lake ATV trail map, while the second link includes the the Blind Lake trail connector to the Soo Line trail. The third and fourth links are maps of the Northwoods Regional Trail System including the following trails.
Blind Lake Trail & Connector
Soo Line Trail
Moose River Trail
Hill City Connector Trail
Rabey Line Trail
Lawler Loop Trail
UPM Blandin Trail
Solana Forest Loop Trail
Red Top Trail
The Blind Lake Trail and Connector consists of varying terrains that you will ride through. Wildlife is abundant in the area. You might see deer, grouse, fox and maybe even a wild turkey or two. The trail has 33 plus miles of ATV adventure that will give you a variety of scenery to enjoy. The Blind Lake ATV Trail is open from May 15th to October 31st.
Come join us for a ride in the wild!
The link below shows the trail with the south entrance and north entrance parking lots and the Blind Lake Loop. Note: Brown Lake shelter is located where the trail ends at Brown Lake. This shelter is a small enclosed building complete with a wood stove for heating. It is free to be used by anyone. It's rather primitive so don't expect too much.
The next link shows the north and south entrances marked with a P (parking lots). In addition it includes the new connector trail which goes north to the Soo Line link of trails.
If you plan on riding the entire Blind Lake Trail to the Soo Line from the south parking area, be sure you have a full tank of fuel and consider bringing an approved auxiliary fuel tank along. There are no gas stations along the way so plan accordingly. Many ATV's have small capacity fuel tanks. You may not have enough fuel for traveling the entire 66 mile round trip trail even with a full tank. Play it safe and bring extra fuel along. It's a good idea to bring some food, water, matches, first aid kit, rain gear and toilet paper too. Please bring your trash out with you. Keep your trail system clean.
Check out these two trail maps of the Northwoods Regional ATV trail system.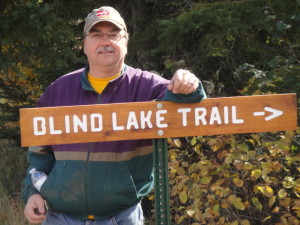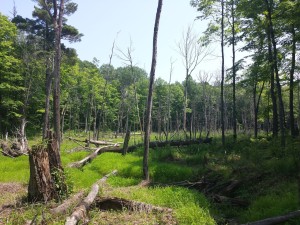 OUR TRAILS ROCK!